Chippewa®
Complete your to-do list by staying hydrated with Chippewa spring water. Pure, premium water that promotes a healthy lifestyle.

Dasani®
Pure, crisp DASANI delivers fresh taste with a clean, fresh style. All Dasani bottles are made of up to 30% plant material. Learn More

Mendota Springs®
Sparkling water at its finest. This carbonated beverage offers refreshing satisfaction in lime, lemon and other flavors.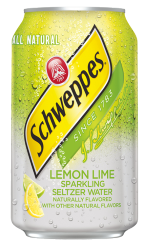 Schweppes Seltzer®
The best in water with a bubbly refreshing effervescence. An crisp alternative to sweetened soft drinks, it contains no sweeteners and is naturally flavored.

Smartwater®
Glacéau Smartwater is crafted to mimic the way Mother Nature makes water. We take it one step further to add electrolytes for a clean crisp taste. Smartwater is smart because it's made that way. Learn More

Vitaminwater Zero®
Same great taste and benefits as Vitaminwater, but without the calories.

Vitaminwater®
Vitaminwater features the added benefit of water; with bold, fruity flavors and just the right amount of sugar to make it delicious. Grad a cold vitaminwater, the pioneer of the nutrient-enhanced water beverage category, and make your day a little better. Learn More